Newsletter – December 2021, Issue 36
Welcome to the 36th edition of the CPME Newsletter!
Download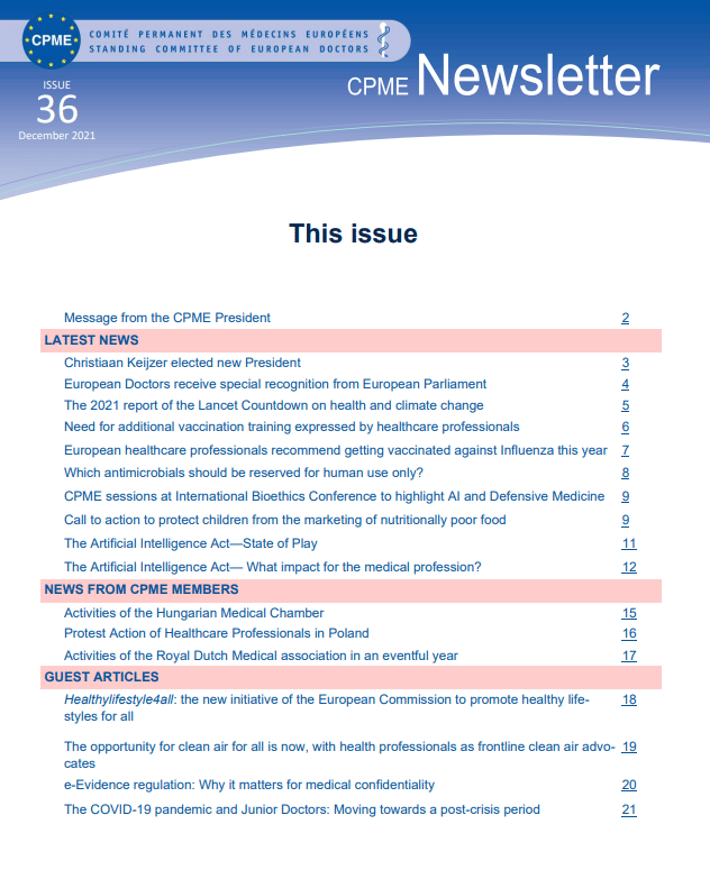 With this edition we are delighted to announce that Dr Christiaan Keijzer has been elected as our President for a three-year term from 2022 to 2024. Dr Keijzer has served as Vice-President since 2019 and succeeds Prof. Dr Frank Ulrich Montgomery who will complete his highly-successful term at the end of the year.
We are honoured to include a report about a special recognition award from the European Parliament on 9 November on behalf of all doctors in Europe for their efforts during the Covid-19 pandemic.
Artificial Intelligence is a key focus in this edition, with a feature on the state of play of the AI Act and its impact on the medical profession. In addition, we include an article on perspectives in preserving antimicrobials for human use, as well as articles outlining the need for additional vaccination training and the importance of vaccinating healthcare professionals against influenza this year.
Hot on the heals of COP 26, we have collaborated again with the Lancet Countdown Policy Brief for Europe, which focuses on data and policy recommendations on heat and health, urban green space, and energy systems, air pollution and health. Furthermore, in November CPME joined 20 European organisations to launch a call to action to protect children from the marketing of nutritionally poor food.